It always amazes me how God can put something before us just when we need it most. How He can use us and our pains, sicknesses, grief...for His good and to the benefit of others.
I'm not a huge social media person...ok, more than some, but I'm not an all day every day poster. I do like to read about local happenings and keep up with friends that I don't get to see all the time. I maintain a business page to connect with my customers.
Not so long ago a local news post crossed my personal Facebook radar. At any other time, in any other circumstance I'm sure it would have just slipped on past. But on this day I clicked, I read, I cried. I was touched. Touched deeply because the story was so similar to my own, so fresh the remembrance.
This story was about a local Missouri family who, after a series of infant losses, carrying their last son to almost 21 weeks, founded an organization called
A Little Thunder
to support other families who have lost children to miscarriage, late-term loss, and early infancy loss. For these families they are creating care packages, just little comforts to know that others are there who understand and that the memory of their son Isaac may live on.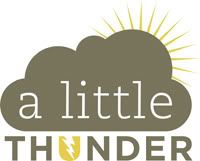 I knew immediately that I needed to get involved somehow, that God put this before me for a reason. I think it is part healing, but also for helping others (moving past my own selfish grief). Upon reading their web page I saw that they have wish list of items for the Comfort Boxes. With a little more internet clicking I found their
Facebook
page and saw that they are holding an auction at the end of this month.
I made contact with Pam and felt an instant connection (amazing again how God connects people through circumstances) and after talking with her and lifting up some prayers I donated a basket of goodies and a gift certificate to their auction. For more details on the auction, how to bid on items such as the gift basket below, or how you can get involved visit
A Little Thunder
on the
web
or on their
Facebook
page.
Somehow this little contribution doesn't quiet seem like enough and I will be sending handmade lip balms and small guest soaps for the
Comfort Boxes
.
If you would like to help me contribute a few more you may purchase a Kit from
Life Soap Simple
that includes
3 lip balms
,
3 soap bars
, or a
combo pack
containing one of each. The entire amount of purchase will be used to make and send items to
A Little Thunder
Comfort Boxes
.